09 mars 2012
BLOG HOP et des cadeaux à gagner!!!!
Bonjour,
Je reviens aujourd'hui pour vous montrer la réalisation faite à l'occasion du BLOG HOP organisé conjointement par Creative Inspirations paints et les tampons Great Impressions.Les tampons Great Impressions ouvrent leur nouvelle boutique.
Pour tous les renseignements ou si vous êtes perdu, c'est ici.
Vous avez entre le 9 et le 11 mars pour visiter les blogs des membres des 2 DT et leur laisser un commentaire. Sur chaque blog, vous trouverez une lettre qui vous permettra de reconstituer un code à donner à la fin.
Vous venez du blog de Kendra et je vous souhaite la bienvenue sur mon blog : la lettre à trouver est "S".
Vous devez maintenant retourner sur le blog de Great Impressions afin de terminer le Blog Hop et d'avoir une chance de gagner de fabuleux cadeaux: 5 pots de peinture Creative Inspirations et un bon d'achat de 25$ valable dans la boutique de Great Impressions, alors n'attendez plus!!!
Hello,
i am coming back to you today to show you the hanging decoration i made for the BLOG HOP and joint venture between Creative Inspirations paints and Great Impressions stamps for the grand opening of their online store.
For all informations or if you are lost, click here.
You have from march 9th to march 11th to visit the blogs of the members of the 2 DT and leave them a comment. On every blog you will find a letter and all the letters will spell a secret word that you'll have to give at the end of the blog hop.
You are coming from Kendra and i am giving you a warm welcome on my blog: The letter of my blog is "S".
You now have to return to Great Impressions blog in order to complete the secret word and get the opportunity to win some fabulous candies: 5 jars of Creative Inspirations paints and a 25$ shopping spree at Great Impressions, so don't waiste any minute!!!
Et voici la réa: une suspension à accrocher où vous le désirez.
here is the project i made that you can hang wherever you want.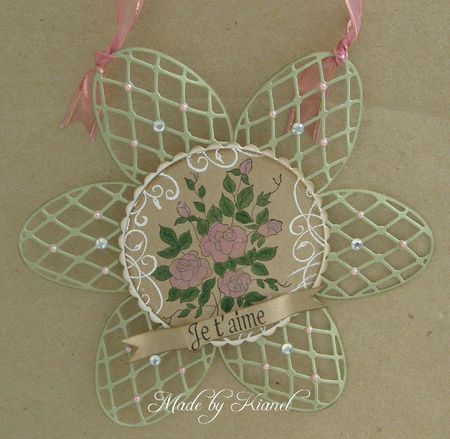 Et voici le détail des tampons avec la mise en couleurs aux peintures irisées et l'embossage en blanc.
And here is a close up of the coloring with CI paints and white embossing.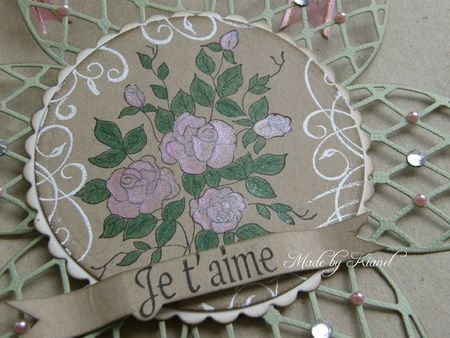 Produits utilisés: papiers Bazzill + Canson, découpes Cheery Lynn designs "Lace egg 5""scalloped circle stacker" "circle stacker", stamps from Great Impressions, white embossing powder + jeweled impressions clear SS20 + paint "emerald" + paint "rose quartz" Creative Inspirations paints.
Je vous souhaite bonne chance pour le blog hop et rendez vous la semaine prochaine pour de nouvelles réas, bizz, Kianel.
I wish you all good luck for the blog hop and see you next week for more projects to share, Kianel.
Commentaires
Poster un commentaire